Successful first United Women Conference
October 8, 2021
UWC Maastricht hosted its very first United Women Conference! With 4 keynote speakers, over 80 guests and students sharing their insights and experiences, we discussed how we can support each other as women and empower young girls. The power of diversity in enterprises, the importance of education and how if a door closes, a window might open…Our speakers and the students who facilitated the interactive workshops provided some real food for thought! Thanks to everyone's openness, we can look back on a highly energetic and stimulating event!
The conference is part of UWC Maastricht's 
Female Empowerment Project
and its mission to raise scholarships for girls from the Middle East and North Africa. An education which prioritizes ethical leadership, active community service and exploring intercultural and inter-societal differences is critical to each of these girls' journeys.
Would you like to know more or get involved? Join us! Together we can make a case. We are looking for women who, through (financial) support, network and ambassadorship, want to be meaningful. Power women who want to empower women. Because girls and women are catalysts for change. They are needed as active participants, decision-makers and leaders at every level of society and in every part of the world, if we want to build a truly equitable, sustainable and peaceful future for all.
For more info:
advancement@uwcmaastricht.nl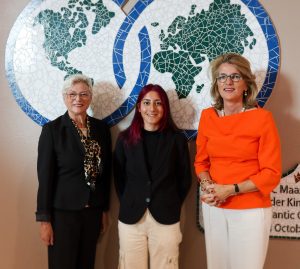 Keynote speakers: Maria van der Hoeven, Fahima Elmi and Marguerite Soeteman-Reijnen
(pictures by: Lou Philippo, Julian Haverkamp, Léonore Vaes and Juliet Collins)