Matej Bilik, Class 2016
March 24, 2022
Can you please introduce yourself to those who do not know you?
My name is Matej and I am from Slovakia. Right now I am a master student but back in the days I was a student at UWC Maastricht and I finished in 2016.
What have you been up to since graduating from UWCM?
Immediately after summer 2016 I went, together with two of my classmates, to UWC Changshu China joined by other recent graduates from different UWC schools and colleges. We were part of a third-year programme which aimed to help UWC Changshu China to a smooth start. Then I returned to Slovakia where I finished my undergraduate studies in Political Science and Sociology and while doing that I became an active member of the Student Council for Higher Education in Slovakia. That was when I got into higher education politics and policy making which is what I am studying right now at Oxford. I am now exploring how to go forward with higher education policy in Slovakia but also more globally. 
In what ways are you giving back to the UWC movement? You already mentioned the third-year option at UWC Changshu China. What were and are some of the other ways?
It is now the fifth year that I am participating in the UWC selections in Slovakia and I serve as the board member of the NC. Now that I am in Oxford it is a little harder to support but since this year most of the selections are online I can still participate. I help with the campaign, recruiting and the first round of screening of the applicants by reading their essays and applications. I have been doing that for the past five years and I hope to keep doing it because it is always so much fun. It is nice to come together with the other NC volunteers  to work on the selections and to reconnect. In addition, I supported some online events run by UWCM, for example the alternative project week last year when I spoke about my experience with education politics and policy. And I am now enjoying the many reunions with UWCers from across different generations and colleges here in Oxford as that's something that was not possible in Bratislava because there simply are not that many UWCers. 
Would you say that your current studies and previous work are also in a way giving back to the UWC movement or living the UWC mission?
For me, UWC served as a catalysator of my way of thinking. It put me on the path to start caring about education as not only something that I receive but also something that I give or something that can be passed on through me and can be given to others. UWC also taught me to think about education more critically and broadly, not only on the individual or institutional level but also on the national and global level. I think that UWC empowered me to engage directly with education. It gave me the chance to experience the power of education and how much students can be transformed and how far they can go when there are good teachers, a lot of resources, and a lot of focus on the student. This really inspired me and made me think about how I can pass on this experience to more people and to make it more universal and inclusive and not just a privileged experience for few people.  
Any memories from UWCM that in particular contributed to your interest in education?
There is no concrete experience, it is more a broader feeling and that is actually the feeling of having joy from learning. And of course I acknowledge that the learning was difficult and challenging at times. For me the feeling of joy came from knowing that my learning matters. This is something that the teachers cannot institute on their own, you can have the best teacher but if the students do not want to engage there will not be the joy. This shows how much power the students actually have and how much difference it makes when students are there to learn, are open to learning or even seeking to learn and soaking up as much as they can. This is the feeling that UWC gave me, it gave me the motivation to learn. I wanted to explore and discover not for the sake of good grades but the experience of learning which was very transformative for me. My wish is that all people would get an opportunity to experience this feeling to be in a community of people who are keen to learn not only from the teacher but from each other.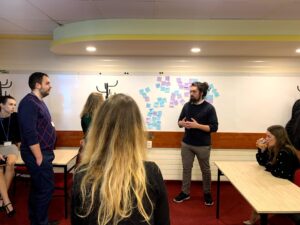 In what other ways would you say that you continue to live the UWC mission?
It is not just me who was transformed by the UWC experience but my entire family back in Slovakia and I would say that we are all living the UWC mission in a way. Back when I was a student and even now, my family is always very enthusiastic to host my friends from UWC and to learn from them. These interactions with people from all the different places and cultures opened my family's way of thinking and the world became so much more real for them. 
What would be your advice for alumni who are thinking about reconnecting with the movement and giving back? 
I would say that they could start by once in a while actually reading the emails that come from UWCM and the wider UWC movement. There is often something interesting and it's a quick way to reconnect with the UWC spirit. And if they want to take it a step further, these emails regularly share opportunities to get involved with current students both in person and online. And of course, there are national committees who usually need some help and would appreciate hearing from alumni.