Volunteering with Serve the City
April 8, 2021
During times when COVID-19 has affected all of us negatively, there are communities and people trying to bring a little joy to our lives. Serve the City is one of such communities aimed at brightening people's days by small actions. These actions include litter picking, helping elders and refugees, and painting the ground with colorful pens. One of our students visited Serve the City and wrote this article.
Painting Rocks
When, we, the Community Engagement team visited Serve the City, there were two teams of students; one painting rocks and the other making gift packages. "Rock Painting is an idea that is going through the whole country." Serve the City's project manager, Ingeborg Dijkstra, explained. It is a trend in which people within the Netherlands will paint rocks and hide them in spots. Others passing by who find it, have the opportunity to post it on a Facebook page made for this trend called "Kei 043". These rocks also have positive messages written on them as the goal is for it to be something to cheer people up.
Gift Packaging
On the day, Serve the City and the Vind church community were working together. "We are Christians by belief, and we want to share Jesus in a practical way." Lisa Schenkel, part of the Vind church community explained. These packages contained either beauty products, snacks, or something fun and creative, such as a puzzle. All three would be presented to each resident of the area, and they could choose between them without knowing what is in each one. "To better their [residents'] lives and make them feel loved and cared for." Most people receiving the gifts were very surprised at first because they did not need to give anything back for the gift that they got.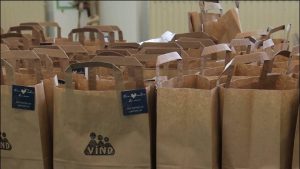 Serve the City had many more activities going on such as working with elders, people with disabilities, and refugees, however due to the COVID-19 regulations, these activities have become more difficult and dangerous to proceed, making the social aspect of the service more challenging. Nonetheless, both Serve the City and Vind church community have managed to help many people going through a hard time at the moment and will continue to do so.